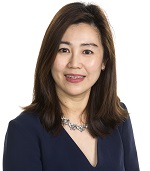 Kara Zhuo, CPA, CGA
Senior Manager,  Accounting and Tax
Kara is a graduate of the University of Central Florida where she completed a Bachelor of Science in Business Administration (Accounting) degree in 2004.  She joined Lott & Company in 2011 and obtained her CPA, CGA designation in 2012.  Kara is also a member of the Canadian Tax Foundation. After returning from her maternity leave, she joined the management team in 2016.  She brightens the office every day with her energy and smile.
Kara brings great passion and dedication to her work and her clients, always working to determine the best tax and compensation planning strategies.  She has particular expertise dealing with clients that are saving in their corporate structures for investment and retirement purposes.
Prior to immigrating to Canada, Kara lived and studied in Orlando, Florida for 6 years.  She also worked at the Cultural Representative Program at Disney World. It gave her an opportunity to share her culture, customs and heritage with people from all around the world. She gained leadership and business and customer service knowledge from this program.
Kara lives in Richmond Hill. She enjoys traveling and spending time with her family and friends, particularly her energetic son.