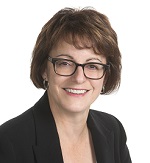 Joanne Lott, CPA, CMA
Administration & Human Resources
Joanne is a graduate of the University of Waterloo where she completed a Bachelor of Mathematics in 1986.  She attained her Certified Management Accountant (CMA) designation in 1987.  Joanne spent many years in industry working in different areas ranging from internal audit, financial/management reporting and project management before joining Lott & Company in 2002.  Joanne notes that clients can expect to work with a group of talented professionals who are dedicated to ensuring their interests are being served.
Joanne is the one that makes sure everything runs smoothly behind the scenes at Lott & Company.  From recruiting and human resource management to quality assurance and regulatory issues, Joanne makes sure that everything is in order.
Joanne has travelled, with her family, extensively through Europe as part of her husband's old-timers hockey team. While Glenn and the team are playing, you can see (and hear) Joanne cheering them on.  To add to her travel adventures, in 2017, Joanne joined Quilt Tours International as a tour representative and has travelled through the Eastern Canada with various groups.  Joanne has volunteered with Hill House House, Richmond Hill, for  many years and has recently  joined the Board of Directors as Treasurer.  If you are ever looking for Joanne, you can find her enjoying a latte at a coffee shop or walking her grand-puppy, Riley.